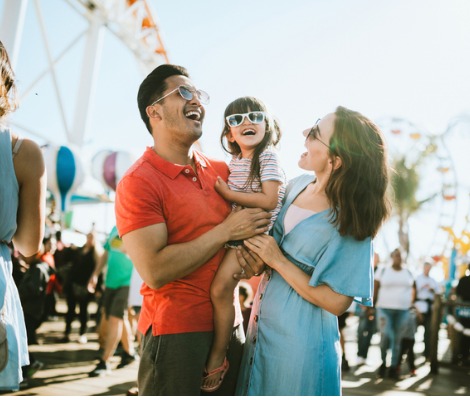 Planning Your Summer Vacation
Creating a Vacation that is Right for You 
As the days get longer and the weather continues to warm, thoughts turn to the anticipation of making summer memories. Summer and vacation are synonymous, but ensuring those memories are positive requires a bit of advance planning. Read on for some ideas for creating a unique vacation tailored to your interests.
Activities
Decide WHAT you want to do before making any plans.
Unstructured outdoor activities like beaching, hiking or camping can be relaxing and inexpensive. What better way to reconnect with each other than being surrounded by the great outdoors. Look into state and national parks or concentrate on a favorite location and do some exploring from there. Be sure to check ahead of special events that may affect your schedule. And have a backup plan if the weather isn't what you anticipate.
Amusement or theme parks are memorable and fun but could be on the pricier side. Be sure to do plenty of research ahead of time to find deals on travel and accommodations, special events schedules and meal options. Following a carefully crafted plan can reduce stress, but be sure to plan for flexibility if things don't go according to plan.
Themed vacations like Wild West, Civil War sites or following in the footsteps of a famous person or group combines time together with an opportunity to learn about something shared by everyone. This common interest becomes the foundation on which the vacation is built and stories are later recounted.
Visiting with out-of-state family is a great way to reunite and make lifelong memories. Plan a family reunion, take trips together as a group or just enjoy time together. The time spent together can often be more important than planned activities.
Use the Internet, chambers of commerce, travel clubs and word-of-mouth recommendations to do your research. Once you decide what kind of vacation you want to experience, it's time to look into the logistics.
Transportation
Is your vacation a one-stop deal where you hop on a plane, arrive at your destination and don't move until it's time to go home? Or will you be in your car every day moving from destination to destination? Consider not only how you will get to your destination, but also how you'll move around once there. Car rental, taxis, shuttles and other modes of transportation have the potential to add significant cost to your vacation and may need advanced reservations. Be sure to check into all options before leaving home.
Accommodations
Do you consider the ideal vacation a suite in a four-star hotel or a tent pitched in the wilderness? Will each member of your group need their own space or can everyone sleep together for some family bonding? This is especially important to consider if staying as a guest in someone's home or in shared space like a hostel or hiking hut.
Consider some of these unusual options for accommodations:
Visiting family or friends is an inexpensive option for visiting a different location and has the added benefit of catching up in a relaxed environment. Cooking together and visiting over coffee in pajamas in the morning can't be matched at a traditional family gathering. Just be sure that both sides—guests and hosts—have clearly communicated expectations. The night owl and early bird can get along, but they may have to talk about it ahead of time.
Feel the need to get out of the city? Have a friend who is feeling a bit isolated in his/her home in the mountains? Arrange to swap homes for a week. Even switching with a friend or relative in a suburban home can be fun—the novelty of other people's stuff, along with the fact you don't have any projects to complete in someone else's house, can be very relaxing.
Perhaps you know someone who has a vacation home you can borrow or rent or barter for some time in. If you're handy, maybe you stay free if you agree to fix the leaky bathtub or paint a bedroom or cleanup the landscape out front. If you're artistic, you could offer to paint a portrait of the house or land or to decorate a room in the house. Think of your skills and talents, and then get creative in making a proposition.
What's the point?
Once all the arrangements have been made and you're on your way, slip yourself into vacation mode. Reflect on what it is you were looking for in your vacation—relaxation, family time, exploration or simply escaping the every day—and enjoy the fruits of your labor.