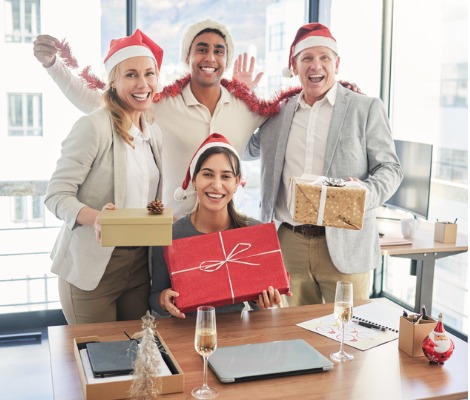 Holiday Employee Appreciation
5 Affordable Ways to Show Appreciation to Your Employees This Holiday Season.
The holiday season is without question the busiest time of the year. Between shopping for gifts, family gatherings, and other social events, it's easy to lose sight of the true spirit of the holidays – appreciation.

But, there is no greater time to show appreciation to the people who support you and your success, including your employees.

A great holiday bonus is one way to show appreciation, yet with soaring expenses that may not be possible. There are, however, other affordable ways to express your gratitude.

Throw a party.

 

Everyone loves a party; it doesn't even have to be extravagant. Consider taking your employees out for a holiday dinner or luncheon. Or if it's more convenient, bring the party right to your workplace. The key is to give employees a chance to relax, get to know each other better in a social situation, and have fun.
Host a gift or cookie swap.

 

Bring sweetness into the workplace by hosting an optional gift or cookie swap to allow co-workers to show their appreciation for each other.
Sponsor a volunteer event.

 

Spend quality time together by volunteering your time. You could put together a team for a charitable event, have a company-wide toy drive, or volunteer your time to help out at a soup kitchen or food pantry. Or, you could simply give every employee a day off to volunteer for a cause that's important to them.
Offer bonus time off.

 

Another easy way to show appreciation is to give your employees extra time off. You could also allow them to work remotely the week of the holidays to cut down on commuting time. Or, if your company is busy during the holidays, you can give them a floating holiday that they can use later in the year.
Personally thank them.

 

Send your employees a personal holiday message thanking them for their support and hard work and recognizing their unique contributions to your company.

A little thanks during the season of appreciation and giving can go a long way in helping your employees feel valued all year long.