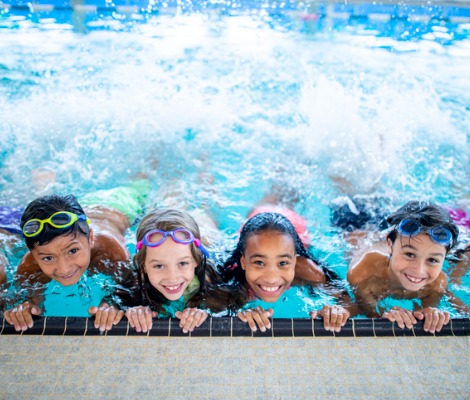 Dip into Pool Safety
10 Tips to Ensure Pool Safety 
There's nothing like a refreshing plunge in a backyard pool to beat the summer heat. But while pools can provide hours of fun and exercise for children and families, they can also present serious safety risks. Here are 10 tips to ensure pool safety for you and your loved ones:
 Never leave children unattended in the pool.

 

Even if there is a lifeguard present, make sure there is a watchful adult within arm's length of any children swimming in or playing near the pool.
Teach kids to swim.

 

Children should be knowledgeable about water safety and should be enrolled in swim lessons at an early age.
Keep inflatables to a minimum.

 

While it's fun to float on donuts, flamingoes, and giant slices of pizza, having too many inflatables in the pool can make it difficult to properly watch children and other swimmers.
Don't swim alone.

 

Even the best adult swimmers shouldn't go it alone, as a cramp or medical emergency could result in drowning danger.
Limit access to the pool.

 

Your pool should be enclosed with a fence that has a lockable gate. In above ground pools, be sure to tie up and lock ladders to prevent children from climbing up into the pool.
Avoid safety drains.

 

Swimmers should be instructed to avoid pool drains, which can be like vacuums that suck up hair, swimsuits, and jewelry.
Ensure water quality.

 

To avoid infections and skin rashes, ensure that pool water is clean and regularly and properly filtered.
Establish pool rules.

 

It's important to establish and follow pool rules, including no diving and running by the pool. Diving can lead to serious head injuries.
Have a first-aid kit handy.

 

Be sure to have a fully stocked first-aid kid handy and always keep a telephone nearby to call for emergency help.
Learn CPR.

 

Learning CPR could possibly save a life. CPR classes are usually offered at local hospitals or at community centers.
Plunge into more pool safety.
For more information on pool safety tips or to obtain a free 
Pool Safety Toolkit
, visit poolsafety.gov.